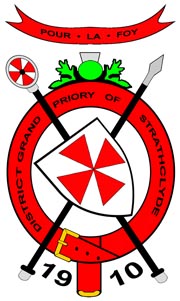 Bicentenary of
the Preceptory and Priory of St Mungo
The Preceptory and Priory of St Mungo is celebrating its Bicentenary during 2014. The main event is a Special Muster to be held on Saturday 13 September 2014 at Partick Burgh Halls.
Organiser Rt Em Frater James Main, Past District Grand Prior of the District of Strathclyde, would like to invite as many Frates as would be interested to the commemoration of the Bicentenary of the Preceptory of St Mungo; Officers of the Great Priory of Scotland will be carrying out the ceremony.
Arrangements are as follows:
· the event will take place in Partick Burgh Halls, 9 Burgh Street, Partick, Glasgow G11 5LW, on
Saturday 13th September 2014
· the rededication will commence at 3pm
· a dinner will follow at approx. 5 pm, cost £15
· a commemorative jewel is available, priced at £10
In order to ascertain numbers attending and to finalise requests for dinner tickets and jewels, details should be sent direct to the Secretary of the Preceptory, James Main, who is coordinating the event. His contact details are:
James Main, 50, Muirton Drive, Bishopbriggs, Glasgow, G64 3AS, email: j.main1 ntlworld.com
District Grand Priory of Strathclyde
Order of the Temple
Order of St John of Jerusalem, Palestine, Rhodes and Malta
Historic Greenock Kirk marks mason anniversary
An historic Greenock church with links to Freemasonry is to host a special celebration for the organisation.
The Lyle Kirk "Old West" building on Greenock Esplanade will be the scene for a gathering of Freemasons from around Scotland marking 275 years of the creation of the centuries old society's first ever Province.
A special "Divine" Service will be held in the Kirk at 3.00 p.m. on Sunday 7 September as part of a number of events which are being held throughout the year.
It marks the occasion when the "West County" Lodges, which included Greenock, were given a celebrated freemason to oversee and supervise their work in February 1739. That man was Alexander Drummond, Collector of Customs and Excise in Greenock and Master of Lodge Greenock Kilwinning No. 15 (Now No XII). Lodge Greenock Kilwinning No. XII which meets to this day in Greenock Town Hall was founded on 27th December 1728 and is the oldest institution in Inverclyde.
Alexander Drummond was appointed as Provincial Grand Master by John Keith, 3rd Earl of Kintore (Grand Master of England 1740 – 41), who was the then Grand Master Mason in Scotland.
This appointment was groundbreaking at the time and had not been seen in Scottish Freemasonry before then. The organisation has written records that can trace its roots in Scotland back to 1599 and many think it goes back even centuries before that.
The Old West Kirk holds particular relevance to the Freemasons of Inverclyde. It was built in 1591 by Johanne Schaw, Master of the King's Wine Cellar (King James VI). Schaw was the blood brother of William Schaw, Master of the King's Works. It was William Schaw who in 1598 and 1599 wrote the 'Schaw Statutes' which were the first rules for the governance of the Freemasons in Scotland. They still hold good and are the basis of governance to this day.
The Shaw Stewart family's connection with Freemasonry extended for over 200 years and they also used the Old West for worship.
Additionally the Old West was the only church in Greenock in 1739 (Wellpark Mid Kirk not being built until 1761) which meant it was the parish church of Alexander Drummond.
Alexander Drummond's modern day successor is Jim Livingstone, Provincial Grand Master of Renfrewshire West, which covers the Inverclyde area.
He said: "We are delighted to be able to celebrate this historic event in the Church which has such strong links to Freemasonry in this area and the building where Alexander Drummond himself worshipped. "We expect brethren from around Inverclyde and all over Scotland to come to Greenock to mark this very special occasion and pack out the church. I am extremely thankful to the Kirk Session of the Lyle Kirk for allowing us to use the building. This will be a wonderful day and a very colourful occasion."
Other events have been held during the year to mark the anniversary such as a special Masonic meeting in February, a black tie "Drummond Ball" in Greenock Town Hall and a trip "doon the watter" on the Waverley for 700 Freemasons.


The Most Eminent and Reverend Grand Master James Hodge is embarking on a series of visits to various Preceptories throughout the country in the coming months. The principle reason is to meet Fratres of the various Preceptories and see how they are working. He has chosen three Precepories in the District of Strathclyde as follows.
Wednesday 24 September 2014 Banks of Avon @ 7.15pm
Wednesday 3 December 2014 Ardgowan @ 7.30pm
Wednesday 21 January 2015 Paisley Abbey @ 7.30pm
Whilst none of the Preceptories wishes to be overwhelmed with travelling Knights on these occasions, the usual good support for our sister Preceptories would be appreciated.